Book a Room
Please select the dates you would like to book with us below.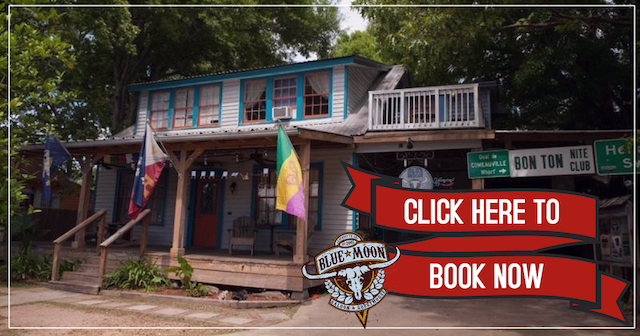 *Our office hours are 8am – 1pm & 5pm – 10pm everyday
*Dorm rooms are available to travelers only. We do not provide Hostel accommodations to locals.
*The Bungalow and all private rooms are generally available to anyone
*All reservations, including Festival Times, require a credit card to be guaranteed.
By phone
Making a reservation by phone is probably the quickest, surest way to get the room you want. We can be reached toll free from the US at 1-877-766-BLUE (2583) or locally (337) 234-2422. Be prepared to give your credit card number and the expiration date. 
Everyday reservation policy
Walk-Ups are whole-heartedly welcome, but to ensure that you get exactly the room you want you should contact us in advance.
Check-in: Check-in is from 5pm-10pm. If you are scheduled to arrive outside of times, please contact the office to make other arrangments.
Keys: A $10 cash refundable key deposit is due upon check in.
Check out: Check out is 11am.
Festival reservation policy
1. Mardi Gras (February / March, Fri before thru mardi gras night) 5-night minimum stay
2. Festival International (3rd weekend in April, Wed. thru Sun. night) 5-night minimum stay
3. Festivals Acadiens (2nd full weekend in October, Fri. thru Sun. nights) 3-night minimum stay
4. Breaux Bridge Crawfish Festival (First full weekend in May) 3-night minimum stay
Cancellations
Our cancellation policy requires 48 hours notice prior to check-in to avoid penalties. With less than 48 hours, you will be charged half of the total cost of your reservation and all "no-shows" will be charged the full cost of the entire reservation.
Festival Time Cancellations
You have up to 90 days notice prior to check-in to avoid penalties, at which time, half of the cost of the entire reservation will become due and is nonrefundable, with the remaining balance due 30 days prior to check-in, and is also non-refundable. We will notify you before we charge your card as a reminder and to reconfirm the reservation.